Goodnight Cemetery
From Claude, Hwy 287 east to Ranch Road 294. Turn left (north). Turn right (east) onto Juliet and left (north) onto County Road 26. Cemetery is on the right. Our
original catalog
has been moved to make way for the official logbook.
The marker for
Charles and Mary Ann Dyer Goodnight
"Together they conquered a new land and performed a duty to Man and God. He was a trail blazer and Indian scout. She was a quiet home-loving woman. Together they built a home in the Palo Duro Canyon in 1876. They developed the cattle industry, they fathered higher education and civic enterprises.
To them, the Panhandle pays reverent and grateful tribute."
---
This information is a transcription of the official logbook. There is a plot map, a description of the cemetery dimensions and the notary seal for the map. The plot number listed here matches the plot map below.
There is an alphabetical list in the Archives.
001 Hearn, Ora H "Orie" 05 Sep 1892 13 Feb 1929 Vaughn family relatiave
001 Hearn, Sarah H "Jennie" Lane 14 Jan 1862 23 Dec 1912 Vaughn family relatiave
001 Hearn, Shaeffer H 18 Apr 1852 14 Feb 1915 Vaughn family relatiave
001 McLaren, Dee Witt 17 Nov 1898 10 Mar 1900 Vaughn family relatiave
001 McLaren, Robert Lee 03 Jan 1868 09 Mar 1923 Vaughn family relatiave
001 McLaren, Susan Allie (Vaughn) 01 Dec 1867 01 Jun 1910 Vaughn family relatiave
001 Vaughn, Guy Raymond 25 Aug 1886 20 Jul 1901 brothers drowned together- related to Goodnights
001 Vaughn, Jay Dee 25 Jan 1884 20 Jul 1901 brothers drowned together- related to Goodnights
002 Bull, Evrard A 1880 06 Jan 1904
002 Dyer, Albert Miller 13 Feb 1832 27 Oct 1911 bro / o Mary Ann (Dyer) Goodnight
002 Dyer, Granger Miller 15 Oct 1845 14 Nov 1881 bro / o Mary Ann (Dyer) Goodnight. Died as results of fight over Panhandle, TX woman.
002 Dyer, Leigh Richmond 22 Feb 1849 04 May 1902 bro / o Mary Ann (Dyer) Goodnight
002 Dyer, Wilhamena (Cantelou) 24 Sep 1855 14 Sep 1919 w/o Leigh R.
002 Goodnight, Charles, Col. 05 Mar 1836 12 Dec 1929 died in Arizona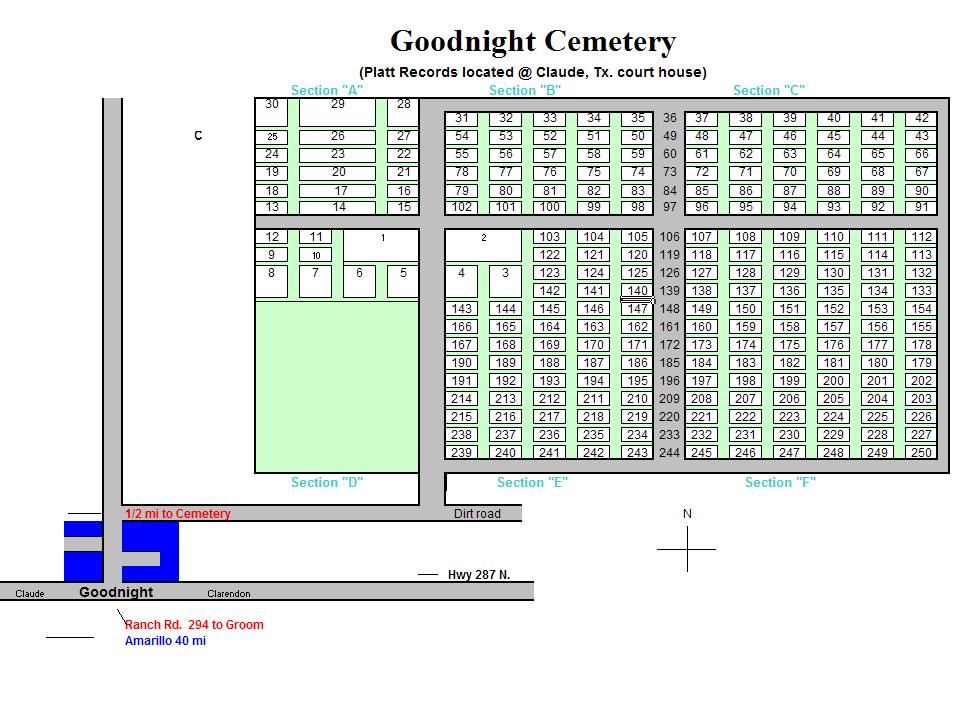 002 Goodnight, Mary Ann "Molly"(Dyer) 12 Sep 1839 11 Apr 1926 w/o Charles
002 Nunn, Infant, son 29 Jan 1908 19 Mar 1908
003 Roach, Estelle Lorene 29 Jul 1914 02 May 1917
003 Roach, Infant, Elizabeth Leigh 17 Oct 1916 05 Apr 1917
004 Reed, Infant, Willis Baten 25 Oct 1904 15 Jul 1905
005 Kesterson, Mary Eloise 01 Oct 1911 01 Jun 1935
005 Kesterson, Pearl (Askew) 04 Jun 1881 19 Jul 1951
005 Kesterson, Thomas Jesse 04 Apr 1869 12 Mar 1914
006 Emary, Anna 29 Feb 1876 21 Jan 1915 w/o J.A
007 Evans, G W 25 Apr 1840 09 Mar 1915
008 Hutson, Infant 21 May 1916 Father: Joe
008 Mooney, Susan 24 Jan 1896 16 Sep 1924
009 Conrad, Bernard W Jr 22 Feb 1921 20 Aug 2009 cremation, memorial stone only
009 Conrad, Carolyn (Crain) 11 Jun 1927 cremation, memorial stone only
009 Crain, Albert Mirza 13 Sep 1866 27 Nov 1972
009 Crain, Infant son 27 Nov 1931 27 Nov 1931 s/o W Mirza & Mary H
009 Crain, Mary (Horschler) 27 Jun 1903 17 Jun 1983 (Buckner orphan), w/o W Mirza
009 Crain, Violet ( Berryman) 15 Mar 1874 04 Nov 1961 w/o Albert M
009 Crain, Walton Mirza Jr 07 Jun 1939 11 Apr 1960 s/o W Mirza & Mary (Horschler)
009 Crain, Walton Mirza Sr 10 Oct 1897 02 Nov 1986 s/o Alert M & Violet (Berryman)
009 Hazlett, Elmer Fred Addison 17 Feb 1922 24 Dec 2008 creamation. h/o Marion Hazlett
009 Hazlett, Marion (Crain) 06 Apr 1923
010 Rape, Franklin 31 Dec 1913 09 Mar 1918
011 Dyer, Annie 19 Jun 1857 19 Feb 1907
011 Wood, Cynthia (Goodnight) 15 Aug 1838 11 Jan 1913
012 Berryman, Marritta (Green) 26 Jan 1842 21 Jan 1917 w/o Newton M
012 Berryman, Newton M 16 Apr 1841 25 Apr 1925 f/o Viola B Crain
013 Kersey, Infant(s) Two children
013 Kersey, Margarett T.G. 30 Aug 1819 16 Aug 1909 m/o V C
014 Brooks, Infant 14 Dec 1908 Father: H G
014 Lewallen, Sarah E (Scott) 28 Mar 1858 14 Aug 1909
015 Desper, Mac 1897 1963
015 Pracher, Infant daughter d/o Frank & Marietta
015 Pracher, Marrietta (Desper) 05 Jul 1866 08 Jun 1918
015 Taylor, F L 17 Aug 1882 15 Jun 1902 s/o S H & M K
016 Longbine, Annie (Funk) 1857 1953
016 Longbine, Edith 1890 1907
016 Longbine, Frederick W 20 Mar 1851 17 Dec 1913
017 Durst, Lloyd C Sep 1897 04 Jan 1921
017 Rice, Zada Belle (Longbine) 26 Jan 1897 17 Jul 1937 m/o Ann (Rice) Test
017 Test, Joe W 05 Dec 1923 22 May 1987 h/o Ann (Rice) Test
018 Landers, Unknown, Two Two graves
018 Wheeler, Unknown one grave
020 Mayo, George Washington 23 Jul 1853 19 Apr 1930
020 Mayo, Martha Josee (Beavers) 07 Oct 1856 05 Apr 1935
021 Elzy, Judson actual location unsure
027 Dunn, Melton 27 Sep 1897 17 May 1971
027 Dunn, Nevada (Moss) 13 Mar 1900 11 May 1977 w/o Melton
031 Dunn, Infant 1933 g.child /o Moss family
031 Moss, Donald Joe 05 Nov 1939 29 Sep 2012
031 Moss, Infant, J.D. 01 Mar 1937 s/o Johnny & Lora, gchild /o Robert & Sara – deptheria
031 Moss, Infant, Betty Jo 10 Mar 1937 d/o Johnny & Lora, gchild /o Robert & Sara – deptheria
031 Moss, Robert Lee 27 Nov 1867 18 Feb 1953
031 Moss, Sarah Adula (Armstrong) 21 Jun 1875 23 Jun 1936
032 Swearingin, Archie Elbert 28 Sep 1896 12 May 1941 Vetran
032 Swearingin, Infant, Margee Lee 07 Oct 1938 31 Oct 1938
032 Swearingin, Zellie Lucy 03 Oct 1902 18 Feb 1989
033 Railroad, Hand
034 Unknown, 2 graves 2 graves
035 Hodgins, William Sterling 08 Aug 1850 27 Nov 1916 Ranch hand buried by Col. Goodnight. f/o Henry Louis Hodgins born 1893
037 Clough, Nila Marie (Norris) 31 May 1926 06 Jan 2000
039 Martin, 1 space, unknown in plot
052 Hill, Billy Carl 22 Jan 1930 02 Sep 1994
052 Hill, Patsy Jean (Moss) 09 Jul 1934
053 Keeney, Grace 1915
054 Bandy, Wilma Leota 27 Jun 1910 27 May 1911
055 Brewer, Clarence Anderson 12 Feb 1919 3 Jan 2013 s/o Oscar A & Susie A L V (Manning)
055 Brewer, Earl Dean Voyles 17 Feb 1920 26 Dec 2011 w/o Clarence A Brewer
055 Brewer, James Michael 09 Nov 1951 04 Aug 1991
077 Bittle, Thomas Franklin Jr. 29 Aug 1961 06 Dec 2001
077 Harmon, Douglas B 02 Jan 1962 24 Mar 1996
078 Byford, George Gibson 25 Feb 1926 01 Oct 1979 Vetran
078 Byford, Ollie May (Davenport) 22 May 1902 24 Sep 1971
079 Newberry, Albert J "Al " 17 Dec 1917 24 Oct 2000
079 Newberry, Lillian (Longbine) 20 Jan 1894 18 Jul 1977
079 Tyler, Verda (Longbine) 14 Jun 1890 05 Apr 1984
079 Tyler, William Rufus 07 Dec 1884 10 Nov 1965
080 Jobe, Lisa Jean (Woods) 16 Dec 1959 02 Jul 1987
080 Sutton, Callie Nobel 02 Sep 1901 21 Sep 1991
080 Sutton, Ethel Zelia (Griffin) 31 Oct 1896 18 Jul 1991
081 Gray, Francis Ophelia 21 Mar 1926 01 Dec 2008
081 Gray, James Arthur 1928 11 Jul 2002
082 Jones, James Marvin "Lefty" 27 Aug 1927 29 Nov 1998
083 Baird, Betty Jo (McCray) 11 Aug 1933 01 Oct 2010 w/o Max
083 Baird, Herman Max 12 Dec 1929 17 Oct 1997
095 Shelton, Elizabeth Jane (Houchin) 24 Nov 1956 26 Jun 2011 Liz
098 Wilkins, Anna Margaret 16 Feb 1932
098 Wilkins, Robert Lee 23 Dec 1920 09 Dec 1990
099 Bogue, Alice A (Kerr) 17 Dec 1875 16 Nov 1949
099 Bogue, Dale Vernon 04 Jul 1912 01 Mar 1927
099 Bogue, Louis Edward 10 Sep 1908 20 Aug 1989
099 Bogue, Robert J 19 Nov 1865 25 Sep 1955
100 Goodnight, Joan Bryan (Abercrombie) 22 Dec 1929 14 Feb 2010 1st w/o Elden
102 Judd, J P
102 Stimson, J E 02 Feb 1868 17 Nov 1907
103 Almond, Infant, boy Burial in neighbor's plot, Kinard
103 Kinard, Andrew J 06 May 1856 26 Jan 1914 Owned Kinard Pharmacy @ Goodnight, TX
103 Kinard, Anne P (Bond) 06 Nov 1867 23 Nov 1941
104 Franklin, Infant Father: Ira D
105 Young, Margie Lorena (Gallamore) 22 Jul 1915 21 Apr 1985
105 Young, Samuel Lemuel 15 Sep 1910 31 Jan 1970
107 Blankenship, Elena Penola (Lewis) 29 Oct 1884 13 Oct 1992 w/o G A
107 Blankenship, George Alvin 14 Feb 1884 31 Aug 1951
107 Blankenship, Vera Inez 04 Mar 1904 28 Nov 1982 d/o G A & Elena
107 Donald, Elena Ann "Lena" 31 Jul 1934 15 Feb 2010 d/o Steve & Zola Donald
107 Donald, Steve 03 Sep 1904 24 Mar 1970 h/o Zola (Blankenship) Donald
107 Donald, Zola (Blankenship) 26 Aug 1906 01 Nov 1991 d/o G A & Elena Blankenship
108 Heckman, Danial Ray 14 Jun 1929 05 Feb 2007 h/o Emilly
108 Heckman, EmilyGene 30 Jan 1934
118 Roy, Eugenia Major 24 Mar 1885 12 Jun 1948
118 Roy, Joe Burn 10 Dec 1883 03 Apr 1941
120 Bellamy, George Francis "Frankie" 01 Mar 1888 15 Sep 1964
120 Bellamy, George Z "Peewee" 27 Apr 1910 06 Jul 1981
120 Bellamy, Harriett Arline 18 Aug 1917 10 Mar 1935
120 Bellamy, Panzy M 02 Aug 1913 25 Nov 1997
120 Bellamy, Robert Lee 17 Mar 1873 26 Jun 1960
121 Nix, Loice Freeman 12 Feb 1899 18 Feb 1920 d/o Miles Jennings & Sarah Eliz. (Freeman)
121 Nix, Miles Jennings 08 Jul 1863 22 Oct 1922 s/o Jennings O. & Beulah (Pool) Gregg
122 Dodson, Infant son Father: Jim
122 Dodson, unknown
123 Scarbrough, Dora B 04 Dec 1874 10 Jun 1918
123 Scarbrough, Infant, Dorothy Fay 17 Aug 1925 25 Aug 1925
124 Nix, Infant, Edith Jewel 12 Sep 1916 10 Jun 1918 d/o James Oscar (J.O.) & Beulah E.
125 Gray, Infant Father: William
138 Munn, Charles Neill 11 Oct 1854 09 Dec 1936 Vetran
138 Munn, Charles Neill Jr 06 Mar 1890 18 Oct 1955
140 Unknown, 2 graves 2 graves
141 Coppell, @ White family lot #141
141 Corbell, Claude Maxwell 06 Oct 1896 01 Jan 1977 White family relative, vetran (of Memphis, Tx)
141 Corbell, Earl M 31 Jan 1922 18 Jun 1972 White family relative, vetran (of Hedley, TX)
141 Corbell, Jessie D 13 Dec 1897 25 Mar 1981 White family relative, vetran (of Hedley, TX)
141 White, Dollie (Freeman) 15 Apr 1881 27 Jun 1945
141 White, Infant, Jettie Jun 1892
141 White, John Frank 09 May 1867 19 Oct 1914
141 White, Luther Patrick "Pete" 28 Apr 1900 05 May 1967
141 White, Ralph 08 Sep 1908 06 Sep 1915
143 Hudson, Alda Amy (Wilmoth) 22 Apr 1901 01 Mar 1991 w/o Clarence M
143 Hudson, Clarence Moody 25 Dec 1895 05 Feb 1949 s/o Henry Stow & Nellie A. (Strickland), Vetran
143 Hudson, Henry Stow 20 Mar 1866 04 Jan 1943 s/o Fredrick T & Anne Eliz (Sims). Notary for Goodnight, TX
143 Hudson, Infant, Wilmoth Henry 13 Apr 1924 13 Apr 1924 s/o Clarence & Alda
143 Hudson, Nellie Ann (Strickland) 01 May 1871 31 Mar 1947 w/o Henry Stow
143 Hudson, Nellie Beatrice 17 Jan 1914 27 Sep 1915 d/o Henry and Nellie Ann (Strickland)
144 Cassle, Prescilla Irene 07 Apr 1914 09 Dec 1915
145 Brown, Celia E 06 Feb 1892 21 Mar 1920
145 Brown, Monroe Robert 14 Apr 1892 28 Feb 1920
147 Bullman, Infant Father: George
160 Folmar, Don "Richie" 22 Apr 1972 04 Sep 2012 (Toadman)
160 Thomas, Annie Lyle (Duke) 05 Sep 1869 01 Mar 1961
160 Thomas, Carrol Albert , Pvt Jul 1896 05 Oct 1918 Vetran, burial in Arlington Cemetery, Wash DC
160 Thomas, Infant, Addie 1962
160 Thomas, James H 1868 1932
160 Thomas, John M 1861 1931
162 Hooten, Elnora (Phegley) 01 May 1848 06 Apr 1934 g.mother/o Infant Storm @ #171(NW)
162 Hooten, Henry Clay 18 Mar 1844 01 Oct 1923
163 Goodman, Edith (McKenley)
163 Goodman, Infant
163 Goodman, Winburn Eugene 15 Mar 1890 28 Nov 1913
163 McKenley, Etta Mae 14 Jan 1908 19 Mar 1912
164 Brown, Mary Ann (Dentler) 19 Apr 1868 19 Dec 1930
164 Brown, Robert Henry 19 Sep 1859 13 Aug 1931
165 Upton, Thomas B 20 Mar 1862 19 Feb 1917
166 Backus, Infant (s), twins Twins
167 Mc Dowell, Flora Mae (Hunter) 17 May 1882 28 Nov 1941
167 McDowell, Infant, Ruby 07 Dec 1917 12 Dec 1917
167 McDowell, Martin Clifford 06 May 1903 18 Apr 1917
167 McDowell, William Walter, Jr. 21 Apr 1908 05 Nov 1963
168 O'Neal, Sallie 21 Apr 1876 19 Mar 1919
170 Justiss, Glenda Mae (Dean) 04 Jul 1927 d/o Major & Zora (Gates), w/o T. Ralph Justiss
170 Justiss, Jessie Richard "Dick" 17 Sep 1918 26 Mar 1921 s/o Jessie J and Ruth C (Trout)
170 Justiss, Ruth C. (Trout) 14 Oct 1890 20 Mar 1935 2nd w/o (Jesse J Justiss, buried @ Claude, Tx)
170 Justiss, Thomas Ralph 08 Dec 1923 22 May 2011 s/o Jessie J and Ruth C (Trout), Vetran WW II
171 Storm, Infant son 02 Mar 03 Mar 1924 s/o Wash Storm, g.son/o Mrs. E. Hooten@ #162
173 Sweeden, Amy Suzanne (Seaton) 19 Jun 1871 24 Mar 1941
183 Carter, Belva Ione (Harrison) 25 Sep 1912 15 Nov 1997 w/o Malcom
183 Carter, Malcom J, "Mack" 08 Oct 1913 07 Jan 1998
184 Airington, Thomas Edwin 13 Aug 1916 17 Nov 2004 son-i-l /o Martha Carter
184 Bryan, Gaytha (Airington) 26 May 1943 16 Dec 2010 d/o Ed & Elsie Airington, gchild/o Martha Carter
184 Carter, Martha (Bailey) 21 Mar 1885 26 May 1969 w/o TN Carter, sis/o Charles Bailey
184 Carter, Robert Bryan 26 Jan 1904 03 Nov 1946
184 Carter, Thomas Newland "TN" 09 Dec 1858 04 Apr 1944
186 King, Augusta J 1842 1934
186 King, Charles Davidson 21 Oct 1881 04 Dec 1950
186 King, Oswald D 12 Oct 1836 22 Sep 1929
187 Carper, Infant, Joyce 03 Mar 1921 15 Feb 1922
187 Carper, Omar Carl 24 Jan 1884 18 Nov 1945
187 Carper, Ruth (Norvell) 06 Nov 1893 31 Mar 1963
187 Headrick, Treva C 08 Jun 1914 22 Feb 2003
187 Malone, Nora Lee (Carper) 16 Feb 1923 06 Jan 1993
188 Brown, Two Children Father: Ray
188 Stovall, Infant 1922 Parents: Claude & Jackie
189 Covalt, Charles Edward 15 Mar 1878 15 Sep 1959
189 Covalt, Dora Inez (Shores) 24 Mar 1894 19 Nov 1957
189 Covalt, Kenneth Dale 19 Sep 1932 07 Nov 1993
189 Shores, Emma C 18 Nov 1861 28 Jan 1920 m/o [Roy @ Claude, TX cemetery, f/o Verna (Shores) Massey]
189 Shores, Inez May 25 Jul 1900 17 Jan 1926
190 McDowell, Elizabeth Caroline (Swafford) 24 Feb 1878 17 Apr 1969
190 McDowell, Infant, Bascom 23 Jun 1919
190 McDowell, John Cecil 08 Nov 1870 26 Sep 1936
190 McDowell, Joseph Wesley "Joe" 28 Jan 1914 07 Sep 1984
193 Bailey, Charles C. 26 Sep 1891 06 Dec 1978 bro/o Martha Carter
193 Bailey, Infant 1922
193 Bailey, Laura Virginia (Fisher) 02 Feb 1852 04 Feb 1926
193 Bailey, Viola Victoria (Harmon) 07 Feb 1893 06 Jan 1973 w/o Charles C. Bailey
193 Bailey, William Franklin 16 Feb 1845 04 Sep 1928
194 Coston, Edmon Lawson 31 Oct 1880 24 Nov 1924
194 Coston, Elza (Enloe) 11 Jan 1908 24 Apr 1940
194 Coston, Infant 1922
194 Coston, Laura 1853 1926
194 Coston, Lillian Leona 18 Sep 1884 10 Feb 1960
195 Miller, Earl 29 Nov 1889 27 Jan 1947 f / o Joe & Ivan
195 Miller, Grace E 06 Apr 1916 25 Jan 2009 d/o Van Earl & Judy
195 Miller, Joseph Henry 15 Oct 1914 10 Jan 1963 Vetran
195 Miller, Julia M (Brown) 27 Jul 1894 03 Dec 1967 w/o Earl
195 Miller, Van Earl 28 Sep 1924 03 Jul 1930
197 Barham, Dorothy Virginia 22 Jan 1924 14 Jan 1925 buried in Rio Hondo, Tx
197 Barham, Francis Cathryn 09 Aug 1920 01 Jan 1932
197 Barham, Perry N. Sr. 22 Jul 1922 21 May 1989
197 Barham, Sylnett (Carter) 20 Sep 1897 15 Jan 1992 d/o T N Carter (1st marriage)
197 Barham, Thelma Louise(Fountain) 30 Apr 1924 16 Aug 2008 w/o Perry (Sr.)
208 Cory, Ishuemul Burton 14 Dec 1924 12 Apr 1995 son-i-l /o Retta Hubbard
208 Cory, Mary Joyce (Hubbard) 23 Dec 1927 10 Apr 2010 w/o Ishuemul
210 Matlock, Infant, Donald M 1936 bro/o Bill Matlock, nephew to Donald family
210 Matlock, Manuell M 1916 1923 uncle/o Bill Matlock
210 Matlock, Oscar M, Jr 02 Jul 1915 03 Mar 1925
211 Autry, Child
212 Brown, Infant, Minnie 1932 d/o JE & Minnie
213 Morgan, Jewel (Phillips) 25 Aug 1905 13 Dec 1925
213 Phillips, Arnold 05 Apr 1901 31 May 1925
213 Phillips, Frances Marion 09 Jun 1867 29 Jun 1957
213 Phillips, Helen Sarah (Bartlett) 30 Jun 1870 26 Mar 1959
213 Phillips, Infant(s) 2 unmarked Two unmarked graves
215 Collier, Infant, Eula Pauline 15 Nov 1931 03 Dec 1931 Parents: John & Eula Pauline
215 McKee, Corinne (Wilson) 13 Nov 1901 03 Sep 1965
215 McKee, Infant, Marynelle 01 Feb 1924 24 Feb 1925
215 McKee, James Henry "Hank" 14 Sep 1904 06 Jun 1973
215 Wilson, Corine (McKee) 13 Nov 1901 13 Sep 1965
217 Gamble, Felix
217 Gamble, Infant, Mickey Marie 01 Aug 1927 29 Apr 1928
217 Houchin, Paulin
218 Barker, Mrs M K d/o Mrs C Brown
218 Brown, Mrs C m/o Mrs M K Barker
219 Lair, Infant
232 Pankey, Rufus H. 01 Dec 1856 14 Mar 1931
234 Dunning, D R
235 Williams, Alice (Hardin) 04 Sep 1868 03 Jan 1945
235 Williams, Infant, Betty Joyce 03 May 1937
235 Williams, J D 11 Feb 1862 18 Jan 1938
235 Williams, Lester 07 Nov 1908 11 Mar 1928
236 Hart, James Thomas 05 Nov 1846 28 Jul 1931
236 Hart, Nannie Menetia (Tarrant) 06 Jun 1856 19 Apr 1939
238 Jackson, Alice Irene (Miller) 28 Jul 1893 28 Oct 1998 d/o Dr. T.B. & Bessie Miller
238 Miller, Bessie 17 Oct 1862 02 Feb 1945 w/o Dr. T B
238 Miller, Gaither 13 Oct 1886 25 Mar 1967 s/o T B & Bessie, worked @ Star Telegram News, Ft Worth, TX
238 Miller, Joe 25 Apr 1898 00 Aug 1977 s/o T B & Bessie, "Clabber Joe"
238 Miller, Mal 15 Jul 1891 19 Aug 1973 d/o T B & Bessie
238 Miller, Mary 06 Jan 1893 13 Aug 1975 d/o T B & Bessie
238 Miller, Thomas B, Dr. 27 Dec 1852 06 Mar 1926 doctor
240 Scott, Beulah Virginia (Cooper) 10 Oct 1878 03 Nov 1939
240 Scott, Samuel 14 Sep 1878 22 Oct 1928
241 Newberry, Beulah Mae (Thompson) 15 Feb 1903 29 Nov 1980 (Buckner orphan) w/o Leonard "Stacy"
241 Newberry, Della (Mathews) 02 May 1876 20 Feb 1930
241 Newberry, Jesse Ely Jr "Pete" 17 Oct 1903 09 Dec 1996
241 Newberry, Jesse Ely Sr 21 Nov 1874 11 Nov 1926
241 Newberry, Leonard Stacy 22 Jul 1899 13 Apr 1968 last postmaster of Goodnight,Tx
241 Newberry, Osha Ann Hart 11 Nov 1900 20 Apr 1971 Newberry family friend
243 Hubbard, Ella Patience 16 Dec 1872 05 Mar 1929 was housekeeper for Col. & Mrs. Goodnight
243 Hubbard, Retta Lemonte (Carter) 06 Sep 1907 26 Nov 1989 w/o William Cleo
243 Hubbard, William Cleo 19 Aug 1904 25 Dec 1958 s/o Ella P.
245 Carter, Richard Lee 03 May 1935 08 Sep 2004 h/o Lugenia (Hubbard) Carter, Vetran
245 Garner, Infant 1933 Father: C W